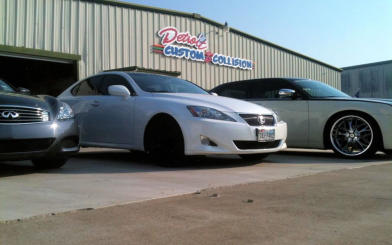 About Us
Full-Service Paint & Body
Specializing in all makes and models, the staff at Detroit Custom &
Collision are always working hard to meet your automotive needs
because it is our privilege to be of service. We believe in being here
for each and every one of our customers. No matter what brings you to
our shop, know that we are happy to be of assistance and ready to
answer any question you may have regarding your collision repair. All
insurance claims are welcome and we work directly with your adjuster
to ensure that you receive the quality service and repair you deserve.

© 2017 Detroit Custom & Collision, LLC
All Rights Reserved Worldwide
Shop Services
Collision Repair * Hail Damage Repair * Paintless Dent Repair
Full Restoration * Customizing * Refinishing * Fabrication
Precision Painting * Color Matching
Our shop utilizes environmentally friendly materials and processes.
* EPA Certified Facility *
* I-CAR and PPG Certified Professionals *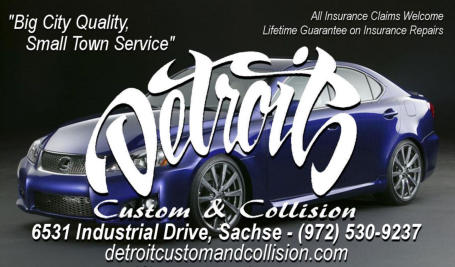 Detroit Custom & Collision is woman-owned and family operated by Chris and
Carmen Rayner. The shop is located in Sachse, TX between Garland and Wylie just
off Hwy 78. Carmen, with the help of our friendly office staff, is committed to taking
care of our customers through focused business management as she oversees the
overall day-to-day shop operations. Chris, along with our outstanding body shop
staff, has more than 30 years combined experience in collision repair, customization
and restoration. It is our commitment to ensure that we provide each customer with
the highest quality and most accurate repair service in the collision industry.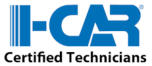 For Your Convenience…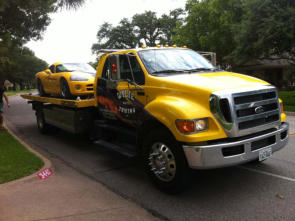 We are proud to work with Wylie Auto Towing Inc.
This local family-owned and operated company stands
ready 24/7 to give you a lift and a helping hand.
(972) 442-9940 or (972) 843-2018
One call and help is on the way!!
Enterprise Rent-A-Car is located just one short mile from
the shop. Rest assured, should the need arise, we will
gladly get you there to pick up your replacement vehicle.

SHOP HOURS:
Monday through Friday………….8AM - 5PM
Office: (972) 530-9237 * Fax: (972) 530-9238
Email: detroitcc@yahoo.com